Can you remember the last time the return of a TV series was so hotly anticipated as this?
READ ALSO:
Everything You Need To Know About 'Broadchurch' On Our Special Page
Broadchurch Star Reveals Series 2 Will Have More Twists Than Before
The return of 'Broadchurch' to our screens is causing ripples of excitement among the most jaded of TV writers, despite – or perhaps because – they've been allowed the sum total of zero preview viewing privileges, so only the barest of information has been revealed.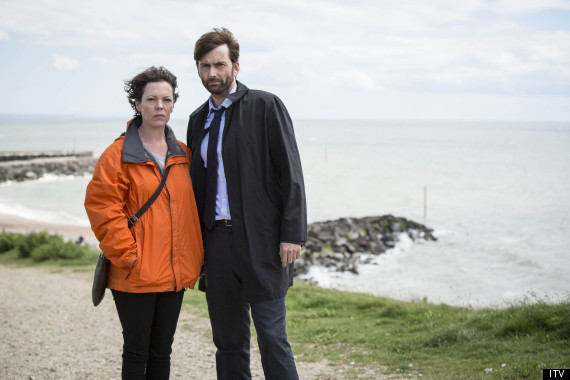 David Tennant and Olivia Colman are battered but not broken in the return to 'Broadchurch'
The nation sat, gripped, as the last series dramatic finale revealed just how close to home Danny Latimer's murderer could be found – bringing with it the inevitable emotional fall-out for not just Danny's family, but the whole community, including the two detectives working the case, wizened Alec Hardy (David Tennant) and loving Ellie Miller (BAFTA-winning Olivia Colman).
And now they're back. So what CAN we tell you about the new series, starting tonight?
Well, the series was filmed during the summer in the familiar location of West Bay, Dorset, and saw the return of familiar faces. Alongside David and Olivia, Andrew Buchan and Jodie Whittaker are back in action as the grieving Latimers, who may – or may not – have got over his affair revealed during Series 1, as well as Arthur Darvill as the mysterious Reverend Coates.
New faces in the cast for Series 2 include Charlotte Rampling, Eve Myles, James D'Arcy and Marianne Jean-Baptiste.
Will you be tuning in to watch the return of 'Broadchurch'?
The last series found Hardy, who had been struggling physically throughout, finally eviscerated to the point where it looked like he would have to leave the force. However, he's evidently rallied and, judging by the the first trailer, desperate for Ellie Miller's help once again. With what, though? Although the trailer concentrates on the plight of two missing girls, there are reports that writer Chris Chibnall is so keen to avoid repeating himself, there may not even be a murder this time around.
David Tennant has revealed, "It would have been ludicrous and a bit disappointing to discover another body on the beach and begin another eight episodes of whodunnit… he absolutely doesn't do that."
But that's pretty much all we know for now, except that writer Chibnall has repeated his trick of letting his cast know only the bare minimum, i.e. what they needed in order to act out each scene effectively, so they couldn't leak the plot, even if they wanted to.
Writer/creator Chris Chibnall says: 'We're doing this because we loved how audiences connected with, and responded to, Broadchurch the first time round. We'd like everyone to see the pieces fall into place (and they will) when you watch episode one on that Monday night. And for people to find out – as much as possible – together, at the same time.
Newcomer Marianne Jean-Baptiste adds, "All I'd say is you think you know what you know but you don't know anything…."
'Broadchurch' returns tonight on ITV at 9pm. Watch the trailer above, pictures below…